When many think of pearls, they may think of the string of pearls their grandmother wore way back in the day. But, pearls have made a comeback and are better than ever! Pearls are a great way to class up an outfit or to give as a great gift to someone special. Pearl jewelry comes in many different fashions, so here is a guide to help you navigate five pieces you must have in your wardrobe.
For information on the different types of pearls and how they are formed, please click here.
#1. Pearl Drop Earrings. These pearl and diamond drop earrings are to die for! They are so classic and great for everyday wear. Buy these as a great present or keep them all for yourself. These go great with a fancy evening gown or a summer sundress.
#2. Pearl Strand Bracelet. This bracelet is elegant and beautiful, and is a slightly different take on the classic pearl necklace. This bracelet can be an exquisite heirloom or keepsake that gets passed from generation to generation. Wear this stacked with other bracelets for a bangle effect, or alone to highlight the beautiful pearl color.
#3. Pearl Ring. A pearl ring is not something one would think of, but it can really add some flair to your wardrobe. Add a pearl ring that fits your style- either a simple pearl on a band or a unique statement pearl ring. We really like this two tone pearl ring for everyday wear, or to wear on special occasions!
#4. Pearl Pendant. A piece that is equally as dainty and classic as pearl drop earrings is a pearl pendant necklace! There is nothing better than a simple sparkly piece of jewelry to wear with almost everything, especially when the pearl is paired with diamonds, like the one below! makes a great anniversary or birthday present, too.
#5. Pearl Brooch. This may not seem like a likely choice, but a pearl brooch done correctly can really add another level of class and style to an outfit. This pearl and diamond pendant can be worn in a lapel of a blazer, in a scarf to hold the ends together, strategically in your hair in an up-do, etc.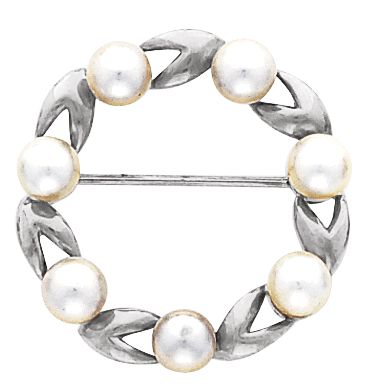 Shop more pearl jewelry, here!