Over the decades, Victoria has been photographed wearing many different engagement rings- 14 to be exact! Her and her husband, David Beckham, got engaged back in 1998 and now have four children: Brooklyn, Romeo, Harper, and Cruz. The Beckham family are definitely fashion goals- probably because they get their fashionable looks from their mother! It is not surprising that Victoria has multiple engagement rings- she has always been recognized as a style icon and fashion mogul. Below are look a likes and descriptions of each of her beautiful engagement rings!
Back in 1998 when David Beckham was playing soccer (or football) for the English National Team and Victoria was Posh Spice, David proposed with a marquise-cut diamond set on a yellow gold band. Here's a similar ring in white gold:
The second ring that Victoria was seen in was not too far after the wedding. In 2001 Victoria was seen in a simpler look- a diamond encrusted eternity band. This type of ring is a classic look that looks good on everyone! You cannot go wrong with this type of ring.
In 2003, Victoria was seen in a different engagement ring style- an emerald cut diamond ring with side baguette diamond accents.We really like the baguette-style for diamond accents. It adds another element of sparkle to the ring!
Pictured only a year after getting the previous ring, Victoria was seen in a pink champagne oval-cut diamond with a halo, which was gifted to her by her husband for her 30th birthday. This look is extremely unique, and if you like the color pink, is a subtle way to incorporate your favorite color into your engagement ring. Here is a lookalike: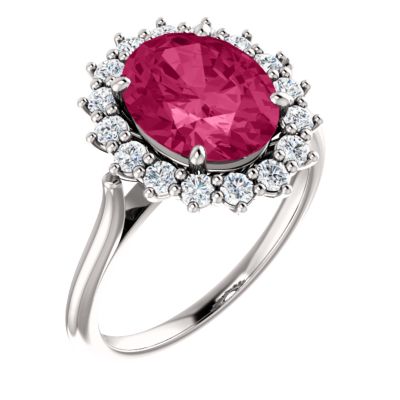 In 2005, Victoria was seen in a pear cut, 17 carat ring with a diamond band. Pear shaped diamonds are very beautiful and trendy! When they are cut correctly, pear diamonds have lots of shine and sparkle. Below are a few of our favorite pear shaped diamond rings from Princess Jewelry.
In 2006, Victoria was sporting a ring similar to her ring from 2003- a yellow emerald cut ring with 3 bands encrusted in diamonds. This ring is super glamorous and different than a standard ring. We love the triple band to support the diamond- it is a great way to add some sparkle and bling to your already gorgeous ring!
In 2007, Victoria was seen in a cushion cut emerald and diamond ring. This type of ring was a change from the usual diamond centerpiece. Emeralds are known for their unique green color which stands for growth, reflection, peace, and balance. This is a great ring if you are looking for an engagement ring that is a little different than what is normally done.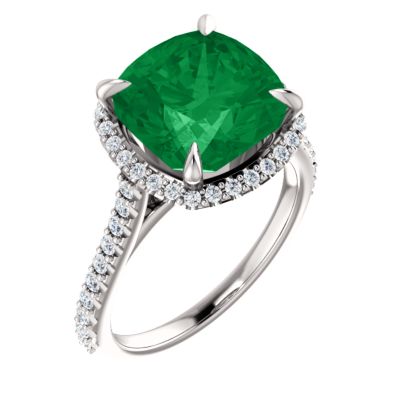 In 2008, Victoria was pictured in a radiant-cut diamond ring that was rumored to be financed at around half a million dollars. This style ring is a classically beautiful ring that can withstand the age of time. Get one with a halo for extra sparkle! Here are a few lookalikes:
In 2009, Victoria was seen in a ring that looked similar to her emerald ring, except this one was made of ruby! Ruby's are an elegant deep red color that symbolize love, passion, power, and a zest for life. Ruby's are a great alternative to diamonds if you are looking for something different. You cannot go wrong with the elegant red color! Pictured below is a ruby ring with diamond accents. And the following year, in 2010, Victoria was seen in another colored gemstone- she was pictured at multiple events in an oval cut sapphire with a diamond encrusted band. Sapphires are a very popular alternative to diamonds in engagement rings. The deep blue color compliments almost everything! We're seeing a trend for halo style engagement rings.
Later that same year, she was also seen in an emerald cut pink diamond with a diamond encrusted band. We love how each ring is slightly different from the last and her incorporating colored gemstones and diamonds! After a couple years in 2015, Victoria was seen back to the basics in a round cut halo ring with a diamond band. This style is extremely popular with couples getting engaged.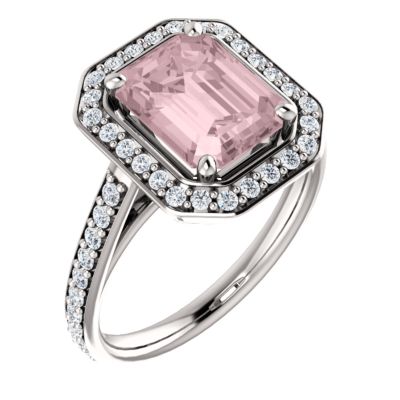 In 2016, Victoria was seen in a simpler square diamond on a pave band. We love how she switches her looks from extravagant to more simple! And finally, in 2018 at Paris Men's Fashion Week, Victoria was seen wearing a new engagement ring- a square-cut yellow diamond set on a platinum band.
How can you get bored of all your engagement rings when you have 14 of them? She has been seen in all of them at least once over the many years! We will see if she debuts any additional engagement rings in the future. For now, if you want to add to your collection of engagement rings. Shop our engagement ring collections here.